Pembangunan The Monde City Segera Dimulai, PURI Gaet Kontraktor Pondasi Kelas Nasional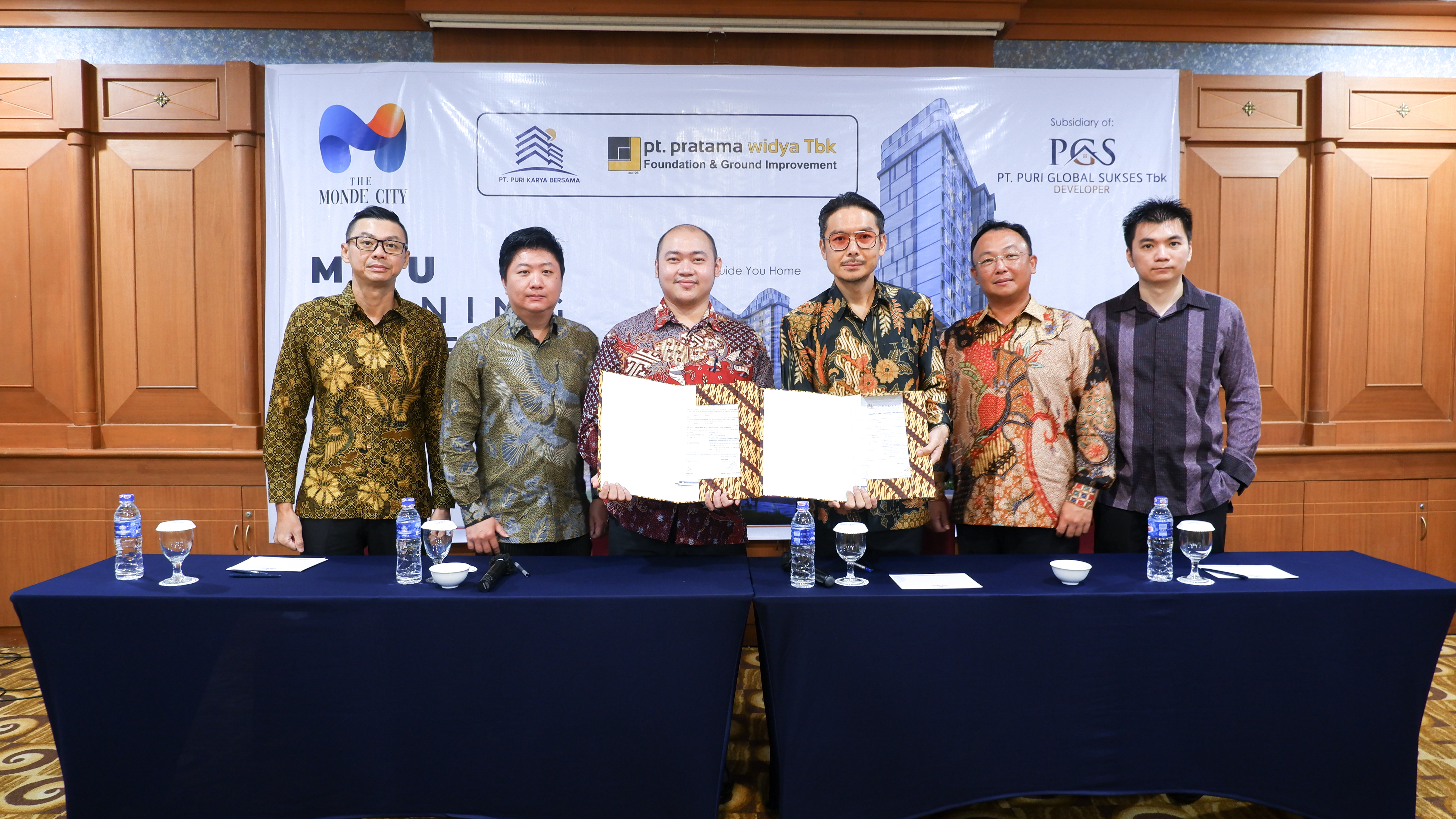 BATAM, PT Puri Global Sukses Tbk terus membuktikan komitmennya dalam pembangunan proyek The Monde City, salah satunya yaitu dengan menggandeng perusahaan kelas nasional untuk menghadirkan produk berkualitas di kawasannya. 
PT Puri Global Sukses Tbk melalui anak perusahaannya yaitu PT Puri Karya Bersama melakukan kerjasama dengan PT Pratama Widya Tbk. Dari kerjasama ini, PT Pratama Widya Tbk akan mengerjakan bore pile. 
Pada Senin (8/11/2021) lalu baru saja menandatangani nota kesepahaman (MoU) antara anak perusahaan dari PT Puri Global Sukses Tbk yakni PT Puri Karya Bersama selaku pengembang dari Proyek The Monde City dengan PT Pratama Widya Tbk selaku kontraktor borepile.
President Director PT Puri Global Sukses Tbk, Eko Saputro Wijaya mengatakan Puri selalu percaya bahwa kualitas dan komitmen pihaknya dalam ketepatan waktu, serta inovasi yang terus dihadirkan akan menjadi magnet utama bagi masyarakat untuk memilih properti.
"Untuk diketahui daya serap pasar yang cepat terhadap The Monde City adalah dikarenakan lokasinya yang sangat strategis yaitu berada di Batam Center pusat dan adanya perpaduan konsep dalam pengembangan superblock di atas lahan seluas 4.3 ha, yaitu New Life Style & Different Sense of Comfort Living," ungkap Wijaya, Senin (15/11/2021).
Dikatakannya, untuk diketahui The Monde City adalah hunian vertikal berkualitas berupa apartemen dengan harga terjangkau (mulai dari Rp. 200jt-an) + cicilan ringan (Rp.1jt-an / bln).
Hunian ini berkonsep one stop living & social interaction, yang diluncurkan melalui konsep cermat dan tepat yang berlokasi di area pasir putih (batam center) pusat. 
"Dikembangkan di atas lahan seluas 4.3 hektare yang dilengkapi lebih dari 50 fasilitas dalam 7 kategori, yang memiliki diferensiasi, dan potensi investasi yang tinggi," imbuhnya.
Untuk informasi lebih lengkap, silahkan kunjungi Marketing Lounge The Monde City di CLUB HOUSE Monde Residence atau menghubungi nomor Hotline Marketing The Monde City : 0811 709 2227